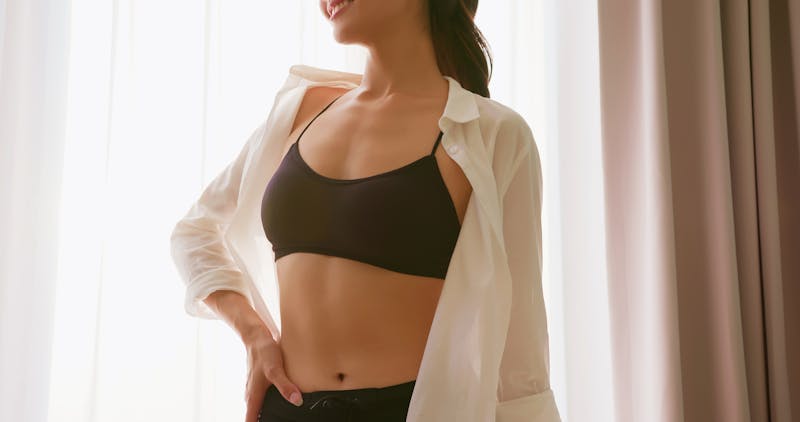 The Most Important Things to Consider When Thinking About Tummy Tuck Surgery
A tummy tuck can be performed after significant weight loss, after having children, or for anyone who may have loose skin on their abdomen that healthy eating and vigorous exercise cannot resolve. Dr. Shwetambara Parakh, MD, categorizes a tummy tuck with lipo-contouring as "an essential" to provide enhanced results.
Pairing liposuction with a tummy tuck has the best outcome
Performing the tummy tuck procedure paired with liposuction is a comprehensive treatment that achieves a total transformation. A traditional tummy tuck addresses the front of the abdomen for a flat belly but doesn't address your entire trunk area. To achieve an overall improved appearance, you often need to contour everything, which is accomplished with liposuction
There are many options for a complete transformation, not only in the abdominal area. Other areas include:
- The Bra Line
- The love handles
- The outer thigh area
Radiofrequency skin tightening can also improve the results in these areas.
Your ideal weight is best for a stunning tummy tuck
Dr. Parakh's best advice when considering a tummy tuck is that you want to be as close to your ideal body weight as possible. However, it's not wise to start crash-dieting to get to a certain weight right before surgery. You want a good, stable nutritional status before surgery because a tummy tuck is a body contouring procedure, not a weight loss procedure. Being close to your ideal and healthy body weight produces the best possible tummy tuck results.
Tips for the recovery process
For the best recovery process, be prepared for downtime in which you should rest and allow your body to heal. At two weeks, most patients feel they can return to light or sedentary work while still wearing their compression garments under clothes. However, your complete recovery and final results usually take more than six weeks.
Some tips for optimizing your healing process include:
- Maintain nutritious diet, and drink plenty of water
- Walk around to promote circulation
- Avoid any strenuous activity
Dr. Parakh requires her patients to cease smoking at least six weeks before surgery and six weeks after surgery. Discontinuing smoking before and after surgery is imperative to achieve optimal healing.
Thousands of small blood vessels supply the skin with what it needs to heal.
Nicotine constricts these vessels preventing adequate blood flow to the area.
If you have recently been smoking or are smoking (which includes vaping) following surgery, there is not enough blood supply coming into these tiny blood vessels. This causes delayed healing, breakdown, and infection of your incisions.
The telltale sign of a tummy tuck is the belly button
The telltale sign of a tummy tuck is your belly button. While the main tummy tuck incision is well-hidden low in the bikini line, the belly button is repositioned and is visible in bikinis and crop tops. Dr. Parakh considers the final step in the tummy tuck surgery, which is the inset of the belly button, to be the most crucial. She has fine-tuned techniques to make sure that the belly button scar is minimal.
When determining the surgeon that's right for your tummy tuck, focus on the belly button in the before-and-after photos and what these look like post- surgery. Regardless of who you choose, Dr. Parakh recommends always considering this piece of the surgical results.
A tummy tuck with Dr. Parakh can give you your dream body
Dr. Shwetambara Parakh is renowned for her exceptional tummy tuck procedures, as she delivers beautiful results based on personalized treatment plans with meticulous attention to detail. Dr. Parakh is double-board-certified in plastic surgery and general surgery and has been in practice for over a decade. At her boutique practice, she upholds the highest standards for state-of-the-art care and an excellent patient experience focused on ultimate comfort. If you're in the Englewood, NJ area, or anywhere else in the world, and you'd like to learn more about Dr. Parakh's tummy tuck procedure, please contact our office today.